Mont-le-Soie is an accredited equine reproduction centre EU (BF96/02) by AFSCA and the Walloon Region. The team always improves techniques and tools indispensable to the equine reproduction of today and tomorrow. Our Centre hosts mares for fresh and frozen semen insemination and embryo collectings and transfers. We obviously host stallions for fresh semen collection and dose packaging but the main activity is the production of frozen semen according to the highest quality standards. We guarantee our clients and partners seriousness, honesty, professionalism and semen traceability.
Mare reproduction
Mont-le-Soie vets ensure the reproductive monitoring of mares within its walls or on the road in the region.
Fresh of Frozen semen artificial insemination monitoring
The Centre monitors mares brought in for insemination, be it with fresh or frozen semen.
Reproductive monitoring includes ultrasounds aimed at assessing the perfect insemination time, the insemination itself and pregnancy diagnosis.
On top of the careful examination of the mare, we also monitor the quality of the semen we use. If necessary, we suggest further examinations or adapted treatments to breeders.
Embryos collecting and transfer
Embryo transfer (or transplant) is an assisted reproduction method in which an embryo is collected in the uterus of a female donor and placed in the uterus of a female recipient. There, it will grow and develop until birth.
The Centre is equipped with a laboratory 100% dedicated to mares, full of equipment allowing for embryo collecting and packaging in the best conditions. Collected embryos are either relocated in a recipient mare provided by the breeder or sent to a partner centre chosen by the breeder.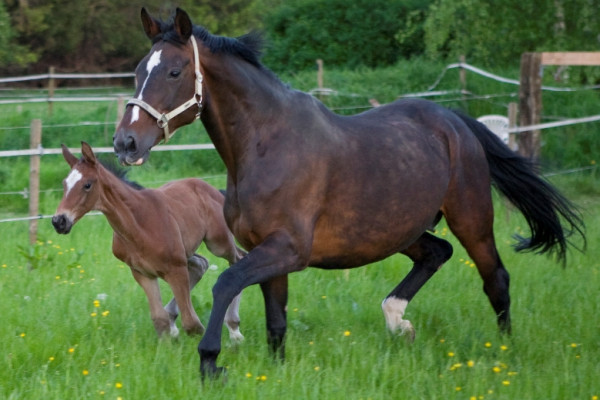 ICSI and other techniques
Recent cutting-edge technologies allow for new opportunities in equine reproduction : ovum pick-up, in vitro fertilization (ICSI), embryo freezing....
Mont-le-Soie doesn't yet offer theses services to its client but the Centre is getting ready to do so in the near future
Stallions Reproduction
Fresh semen
Stallions are collected for packaging fresh semen doses to be used on mares located in the Centre or to be sent to a partner centre or vet in Belgium or a neighbouring country.
We deliver syringes of max. 20 ml containing at least 300 million progressive sperms per dose with less than 30% seminal plasma. They are delivered in styrofoam boxes allowing for the semen to be kept at 4°C.
Transportation is entrusted to specialised companies.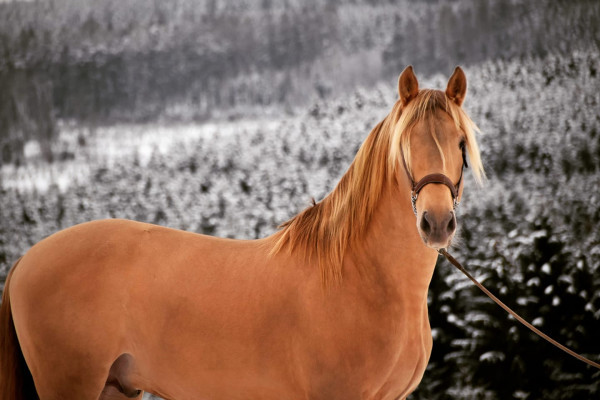 Maestrante - Haras de la Rodge Creux
Frozen semen
The Centre specialises in the production of frozen semen which meets the highest quality standards.
One dose equals 140 million progressive sperms after defrosting. Straws are prepared with the most appropriate extenders. Depending on the quality of the semen, we suggest a standard process or thawing attempts with other techniques or extending media.
Thanks to the development of Sperlin, an innovative and patented cryoprotectant media, in partnership with the company BiopTis, we can produce straws for stallions whose semen couldn't survive when being frozen before. Sperlin also allows us to increase the timeframe between the collecting and thawing phases while preserving the quality. These innovations also allow for collaboration with collecting centres in Belgium and neighbouring countries. Partner centres handle the management of stallions and send us the semen, stored in Sperlin. Mont-le-Soie then puts the semen into straws and freezes it.
For instance, we collaborate with Hengststation Schult (Germany) for the production of frozen semen for the stallion Valdiviani. It is a wonderful example of European partnership since the horse was born in Roger Ballman's stables in Saint-Vith, he now lives in Germany and is ridden by the international rider Isabel Werth !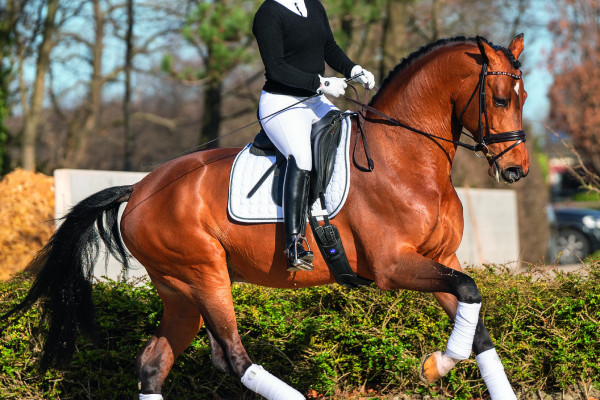 Valdiviani (Veneno x Fidertanz) and Isabel Werth
Semen Analysis
We systematically analyse the quality of the stallion's semen during each collecting, be it in the framework of fresh or frozen semen production. The CASA SCA® system allows for an automated, repetitive and precise analysis of a sample of semen depending on key parameters such as viability or total and progressive mobility.
Semen analysis can also be carried out upon breeder's request, if they are willing to know the quality of their stallion's semen.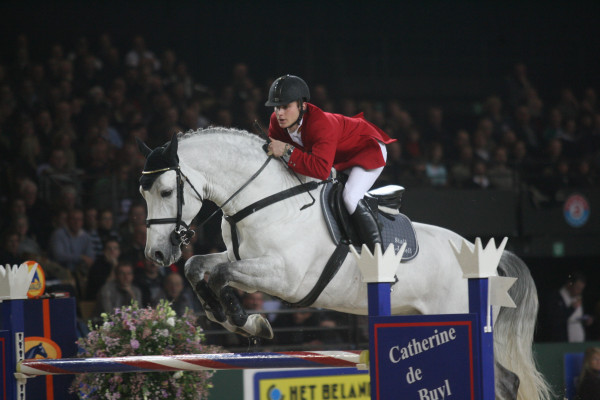 Quite Capitol (Quidam de Revel x Capitano)